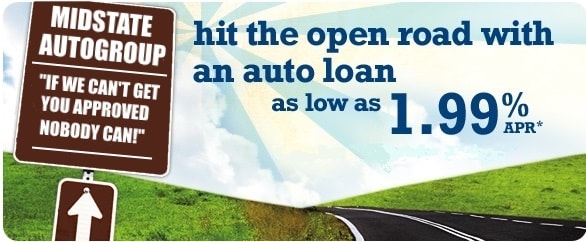 WE ARE SPECIAL FINANCE & BAD CREDIT CAR LOAN SPECIALISTSÂ 
---
 
   Serving the greater Auburn, Worcester and entire Central Massachusetts area. Feel free to contact our Fina
nce team
 directly at (508) 832-8886 or email us at  
sales@
midstateautogroup.com
We know good people run into credit problems every day.  A number of things can happen that hurt your credit rating such as divorce, bankruptcy, foreclosure, loss of job, death in the family, medical needs, or repossession. At Midstate Auto Group we are experts in Bad Credit Financing. We will do our best to help you obtain the best auto loan that will allow you rebuild your credit and drive away in a nice quality vehicle you want and deserve.
Midstates Finance Director is an auto loan specialist and can help you to get the loan approval you deserve. We 
have
 helped hundreds of people throughout the Greater Worcester Area obtain vehicle financing when everyone else told them they didn't qualify. We can do this because 
we
 have the experience, skill and important long standing relationships with the top banks in the industry.